Our cemeteries date back to the early 1900s and represent the various temples, shuls, brotherhoods, organizations, and fraternal clubs of Revere, Chelsea, Everett, and Dorchester. Our large variety of cemeteries cater to all faiths; from the intermarried to the Shomar Shabbas, Orthodox, Conservative, and Reform of our faith. Our main goal, as it has been since 1910, to keep families together, allow them a peaceful, historic, and traditional cemetery to remember the generations that came before them.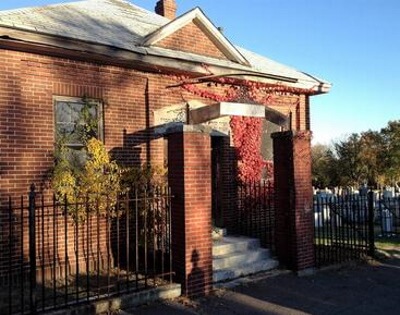 From the traditional chapel of the Chevra Thiliam of Boston and Chevra Mishnias of Chelsea Cemetery.
To the modern, interfaith cemetery of Greenview Memorial Park, allowing those out of the faith to be buried with their families, the Fuller Street Cemeteries services all.
Our Cemeteries
Here is a list of our more than 25 different cemeteries located on Fuller Street.  This list explains the affiliations and managers of each cemetery.
Learn More
The Unveiling Service
Q. Is there any significance to the custom of putting a pebble on the monument when visiting a grave? What is the origin of the custom?
Ans. According to the Bible the first monuments were merely mounds of stones or insides of natural rock caves, as were the graves of Abraham and Sarah. The early Hebrews were nomadic tribes and shepherds and were not skilled in the arts of quarrying and stone carving until their contact with Babylon and Egypt.
It was the custom when passing by a mound of stones marking a grave to deposit one from the vicinity that may have fallen off. This became interpreted as a mark of thoughtfulness and regard for the memory of the person buried. These mounds of heavy rocks served to guard the graves from predatory animals and grave robbers.
Our Charges and Fees
We try to keep it simple…
We try to offer you an option, understanding the high cost of the internment and grave purchase…
Our Private Cemeteries
These cemeteries offer the following benefits
a) $1,200/grave for all private cemeteries (NON-JCAM) graves. Cremation graves (where available) are $595/cremation grave in all private cemeteries (NON-JCAM).
b) Administrative fee is $150
How do you get to the Everett Jewish Cemeteries?
Located ten minutes from Storrow Drive, the Boston Garden and Route 93, 5 minutes from Route 1 and the Revere Showcase Cinemas, as well as 15 minutes from Harvard Street and Beacon Street, Brookline our cemeteries, are centrally located from the North Shore, Suburban Boston and the up and coming developments in Chelsea, Revere and Malden.
232 Fuller Street Everett MA 02149